Advertisement
Colorful isn't exactly a household name especially for those that are not well-versed in PC hardware but hardware enthusiasts know that they have done interesting versions of NVIDIA's card in the past especially with their Vulcan series. In this review, we will be taking a look at their rendition of the RTX 3070 Ti – the Colorful iGame RTX 3070 Ti Vulcan – which comes with higher-rated clock speeds, better heatsinks, RGB lighting, and even an LCD screen at the side.
Colorful iGame RTX 3070 Ti Vulcan OC
| | |
| --- | --- |
| GPU | GA104 |
| Architecture | Ampere |
| Transistor Count | 17.4 Billion |
| Manufacturing Process | Samsung 8nm |
| Boost Clock | 1860MHz (One-Key OC), 1770MHz (Base) |
| CUDA Cores | 6144 |
| Tensor Cores | 192 |
| RT Cores | 48 |
| Memory | 8GB GDDR6X |
| TDP | 290W |
| Power Connectors | 3x 8-pin PCIe |
| Display Connections | 3x DisplayPort 1.4a, 2x HDMI 2.1 |
| Dimensions | 323 x 158 x 60mm |
| Others | LCD Display, Triple Fans, 6x 8mm Pipes |
Colorful iGame RTX 3070 Ti Vulcan OC Unboxing
The Colorful iGame RTX 3070 Ti Vulcan has quite a lot of accessories included in the box. The card is accompanied with a pair of gloves and a microfiber cloth for cleaning the LCD screen. It also gets a GPU holder and a screwdriver with two interchangeable heads.
Colorful iGame RTX 3070 Ti Vulcan OC Up Close
The Colorful iGame RTX 3070 Ti Vulcan OC is an enormous card measuring 323 x 158 x 60mm. It will also take three PCIe expansion slots due to its thick girth thanks to its new cooling system.
Three thirteen-blade axial fans are on its aluminum shroud. Colorful says that the edges of its fans have been raised to increase the flow of air onto its heatsink. The card sports the brand's new Vacuum Copper Plate that increases contact area to the GPU by 50% for better thermal management.
Its VRM and memory chips are cooled as well which is good given that it uses GDDR6X memory which is notorious for reaching more than 100°c even on an RTX 3080.
At the top of the card is an aluminum shroud, which acts as passive cooling for whatever components are under. The logo at the side is RGB-compatible and can be synchronized with other RGB peripherals and components.
Found at the side are three 8-pin PCIe power connectors which we think is overkill for an RTX 3070 Ti. The card only has a rated TDP of 290W so its power connectivity is pretty much overkill and has been designed for competitive overclockers.
One of the unique highlights of the Vulcan series is the LCD screen at the side. This feature remains on the RTX 3070 Ti model and is highly customizable. The screen can be flipped out in order to be seen on vertical configurations.
The screen is customized via the iGame Center app. A custom image can be applied and display monitoring metrics like clock speeds and temperature among others.
The LCD's display can also oriented vertically. The app also acts as a basic overclocking utility of the card for those who don't have a preferred overclocking software.
The back of the GPU houses all its display connections which includes three DisplayPort 1.4a connections and a single HDMI 2.0b port. Colorful is also including a One-Key OC button here that raises the GPU's clock speeds from the base 1770MHz to 1860MHz.
Meanwhile, the front also has a couple of goodies including a built-in mount for the included GPU holder. There's also a USB Type-C port and an RGB header with the latter being used to synchronize the GPU to the PC's RGB lighting.
System and Benchmarks
The Colorful iGame RTX 3070 Ti Vulcan OC will be tested using both synthetic and real-world tests with varying APIs from Vulkan, DX11, and DX12. Vendor-exclusive features like DLSS, Hairworks, FidelityFX and the like will be turned off for parity among different-branded cards.
Components for our test bench include the following:
Synthetic Benchmarks
3DMark Fire Strike
3DMark Time Spy
Port Royal
The RTX 3070 Ti places exactly in the middle of the RTX 3080 and the RTX 3070. It has an average 10% increase of performance against the latter and loses around 15% compared to the former. Ray Tracing performance of the RTX 3070 Ti is placed at -22% and at +13% in contrast to the 3080 and 3070, respectively, according to Port Royal.
Against the RX 6700 XT, however, the RTX 3070 Ti is almost equal in DX11 synthetic tests although it does gain some ground at the DX12-based Time Spy overcoming even the 6800 XT. Ultimately, however, the card trounces both cards in Ray Tracing performance in Port Royal.
Gaming Benchmarks
1920 x 1080
2560 x 1440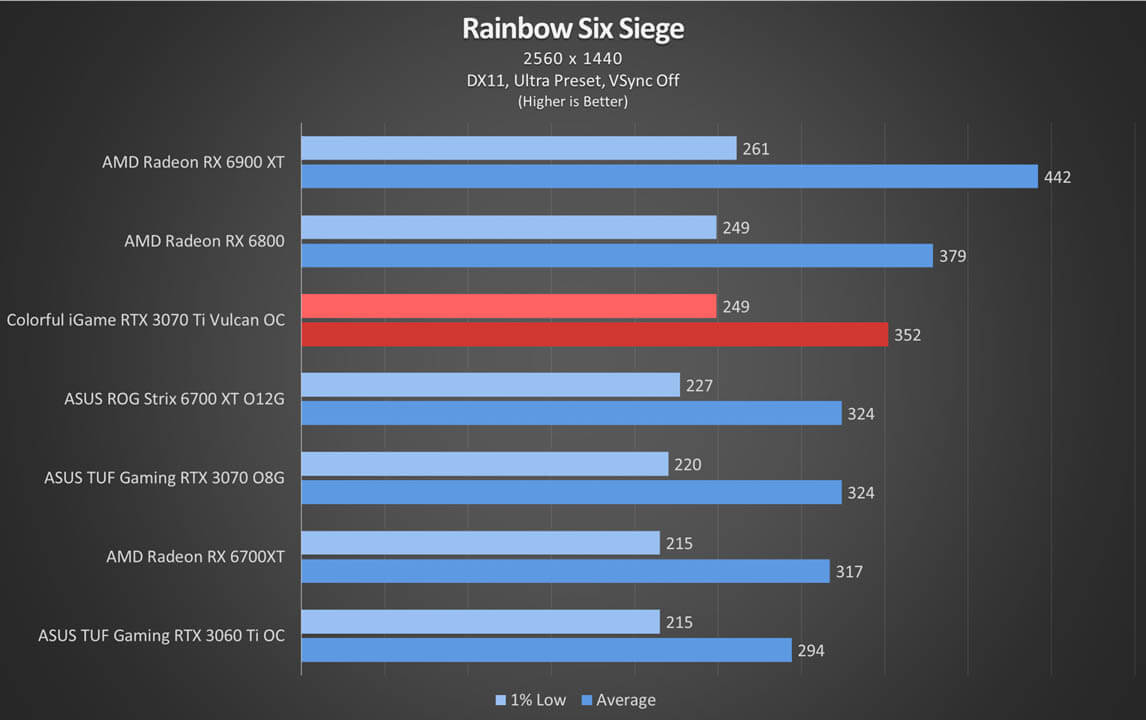 3840 x 2160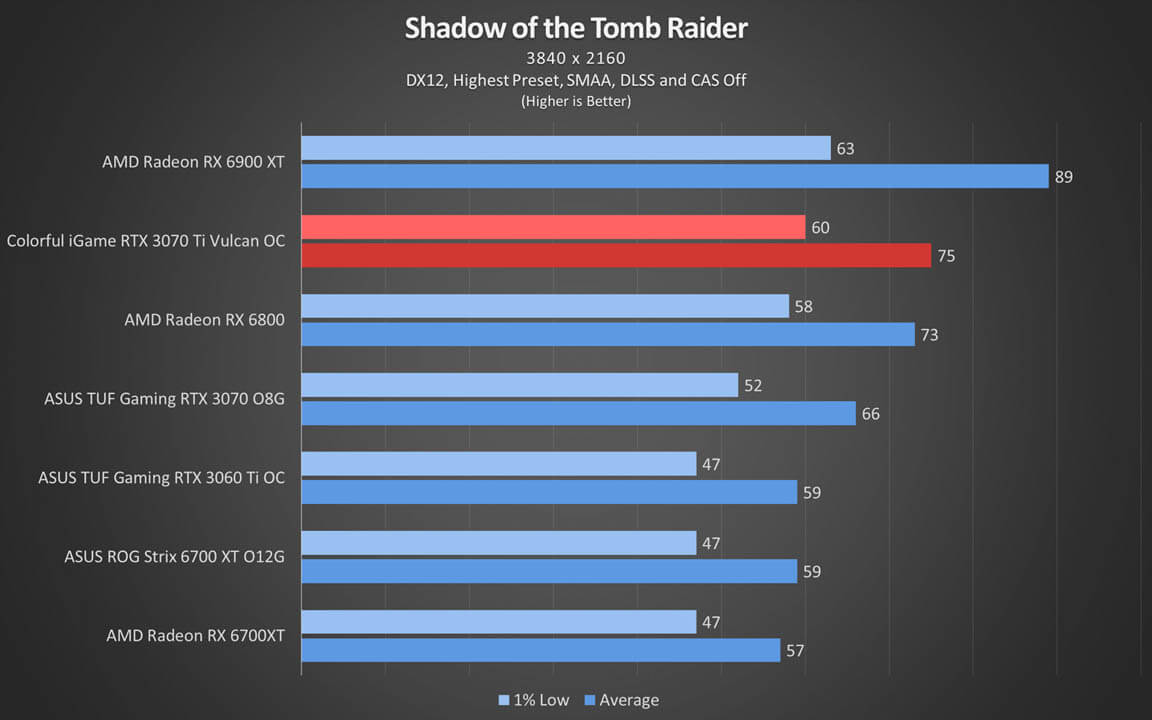 Gaming tests pretty have the same placements as the synthetics. The RTX 3070 Ti improves on the vanilla RTX 3070's numbers by a significant margin.  DX11 performance is still better on the RX 6700 XT but DX12 and Vulkan titles have better performance on the NVIDIA card. It can even easily beat the 6900 XT once Ray Tracing is enabled on titles that support it.
Power Consumption and Temperature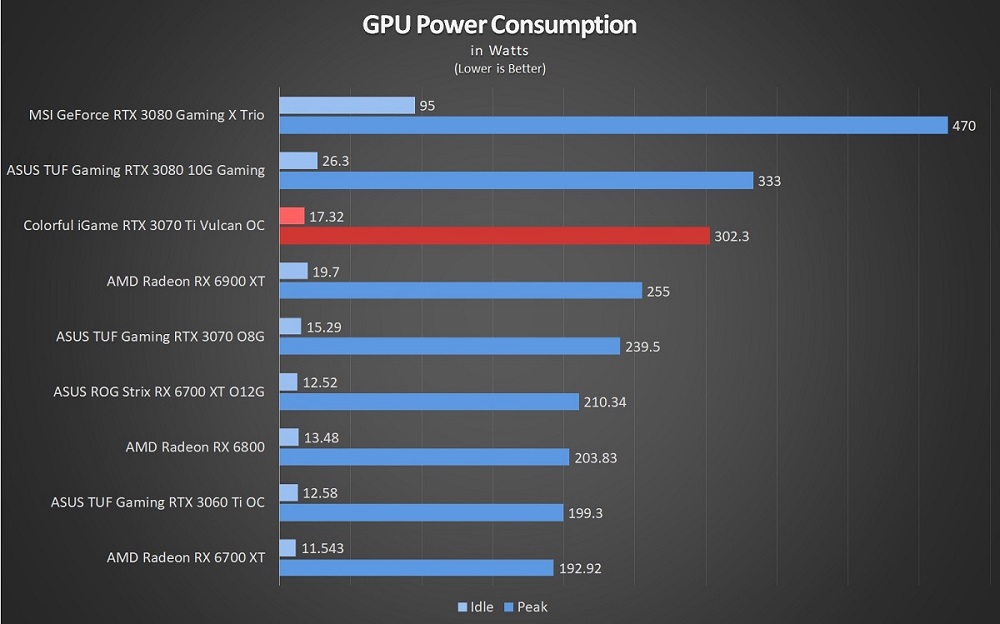 The Colorful iGame RTX 3070 Ti Vulcan OC is a fairly power-hungry card compared to its non-Ti variant. It slightly exceeds the 290 TDP rating at 300W at full load. This means that the card adds 20% power draw in order to deliver around 15% additional performance compared to the RTX 3070.
NVIDIA recommends a 750W PSU for the 3070 Ti but Colorful suggests a 650W PSU. Our testing says that the full rig will pull about 420W from the wall at full load. We guess that some builders will be able to do fine with a 500W PSU but the latter's recommendation is safer and have additional headroom.
Thanks to the triple-fan configuration and large heatsink employed by the RTX 3070 Ti Vulcan OC, is stays at a relatively cool level despite the increased TDP. It comfortably rests at 43°c at idle and peaks at 72°c on heavy workloads. It does average out at only 70°c while playing games or rendering using the GPU.
Clock speeds are fairly consistent as well due to the lowered temperature. A minute and a half of Fire Strike Extreme loop shows that the card hovers around the 2000MHz mark regularly despite being only rated at 1860MHz.
Conclusion
With an official price of PhP 54,995, the Colorful iGame RTX 3070 Ti Vulcan OC is a powerhouse on benchmarks. It comfortably runs every game at 1080p, 1440p, and 2160p at maximum settings.
Its clock speeds are fantastic and regularly breaches the 2000Mhz mark and is helped by a good cooling system. Customization is also one of the highlights of the card not only thanks to its RGB lighting, but also its LCD display at the side. The inclusion of several useful accessories is a nice touch as well.
There are, however, a couple of issues inherent to the RTX 3070 Ti. Some might view the slightly higher performance with the 20% increased power draw as unsatisfactory and it doesn't help that the some RTX 3080s are only a couple of bucks away, at least at SRP.
Regardless of the RTX 3070 Ti's position in the market, the Colorful IGame RTX 3070 Ti Vulcan OC offers enough goodies in terms of performance and add-ons to separate itself from other cards in the market, which is why we are happily giving the card our seal of approval. By all means splurge on the card for an upgrade so long as you get it at a reasonable price.
If you fancy other graphics cards, just click on our reviews: