The Nvidia RTX 3050 comes at a time where-in a new more affordable solution for gaming graphics is needed. With the high prices, gamers are left to manage with old graphics cards or scale the high asking price. To cater to that middle market, Nvidia has produced the GeForce RTX 3050. But is the Nvidia RTX 3050 worth purchasing? Is the ASUS ROG Strix RTX 3050 OC a great card to take advantage of Nvidia's fledgling chip? Read this review to know more.
Before we begin, this review is a bit different from our usual graphics card reviews. The testing rig used here is similar to what you can get if you are aiming for a mid-range build. With that said, this review will concentrate only on the ASUS ROG Strix RTX 3050 OC's performance. Since our review of the similar ASUS ROG Strix RTX 3060 OC was done on the same rig, we can have a bit of comparison tables later.
ASUS ROG Strix RTX 3050 OC Review – Specifications
Graphic Engine
NVIDIA® GeForce RTX™ 3050
Bus Standard
PCI Express 4.0
OpenGL
OpenGL®4.6
Video Memory

8GB GDDR6

Engine Clock

OC mode : 1890 MHz (Boost Clock)
Gaming mode : 1860 MHz (Boost Clock)

CUDA Core
Memory Speed
Memory Interface

128-bit

Resolution
Digital Max Resolution 7680 x 4320
Interface

Yes x 2 (Native HDMI 2.1)

Yes x 3 (Native DisplayPort 1.4a)

Maximum Display Support
4
NVlink/ Crossfire Support
No
Accessories
1 x ROG Velcro Hook & Loop, 1 x Collection card, 1 x Speedsetup manual
Software

ASUS GPU Tweak II & GeForce Game Ready Driver & Studio Driver

Dimensions

300 x 133.6 x 53.5 mm
11.81 x 5.26 x 2.11 inch

Recommended PSU
Power Connectors
1 x 8-pin
Slot
2.7 Slot
Looks & Aesthetics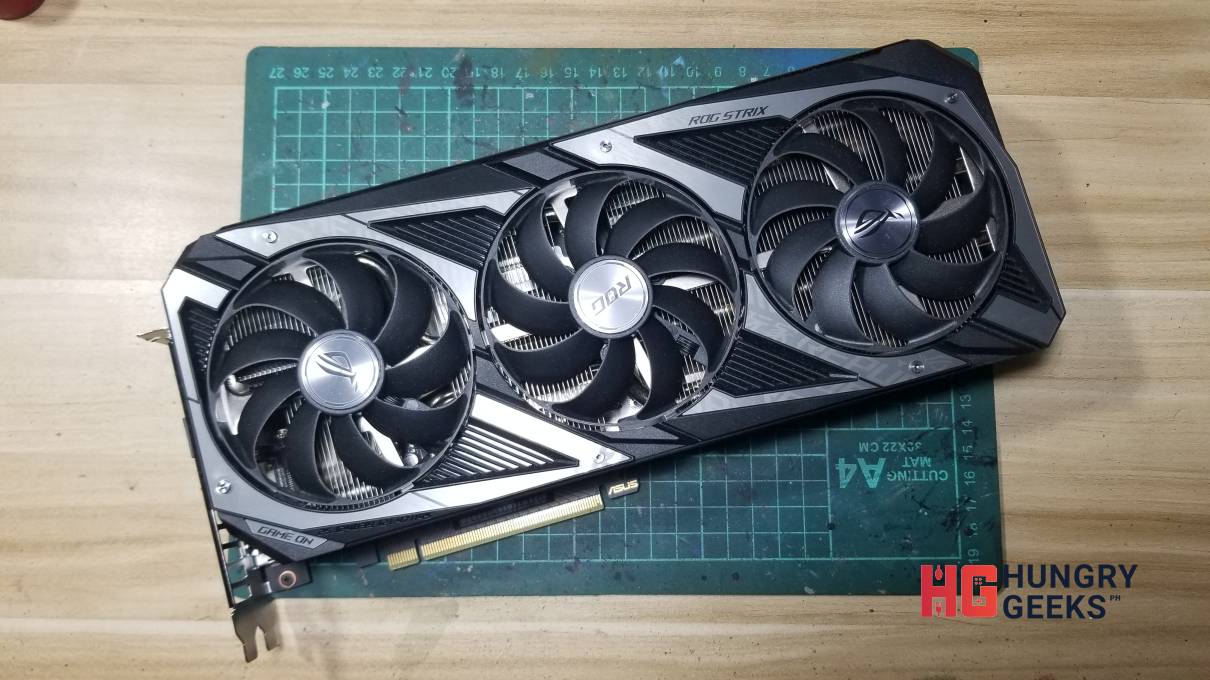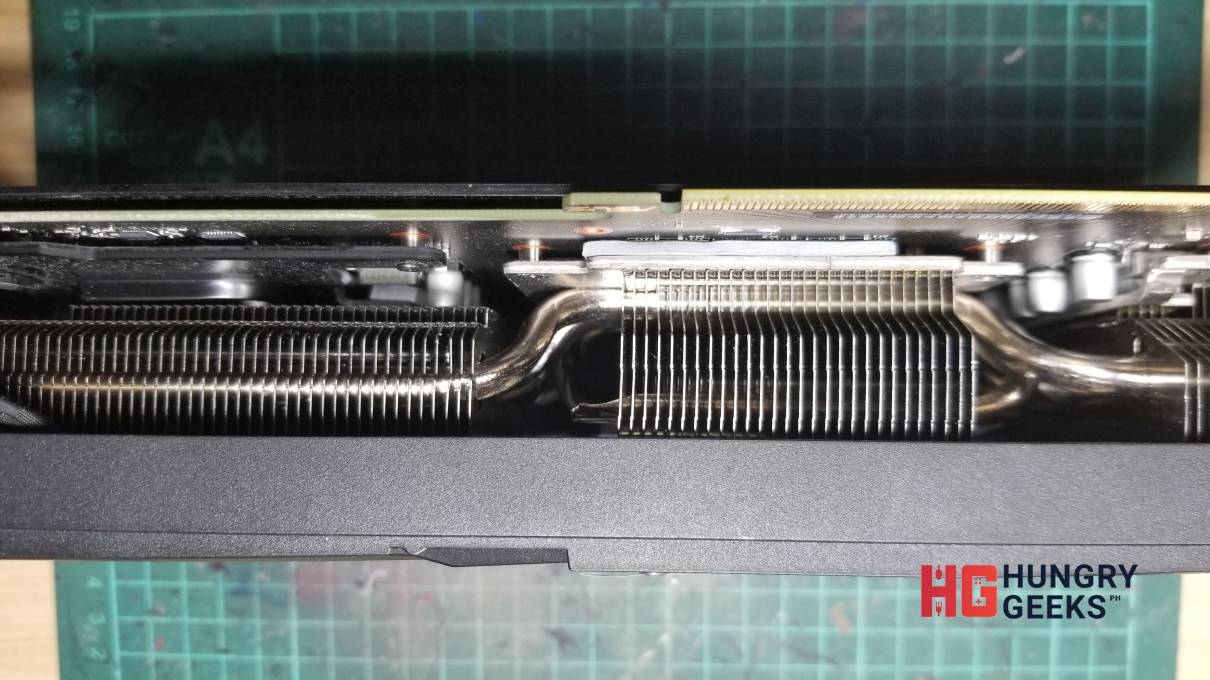 Available Ports
For ports, the ASUS ROG Strix RTX 3050 OC has 2 HDMI 2.1 ports and 3 Display Port 1.4a. It is pretty hefty as it requires almost 3 slots.
Has RGB
The ASUS ROG Strix RTX 3050 OC is RGB compatible and can be programmed to display colors to your liking. You can configure the RGB colors using ASUS Armoury Crate and can also select different lighting behaviors to further accent your build.
ROG Strix RTX 3050 OC Review – Performance & Benchmarks
Testing Rig
| | |
| --- | --- |
| CPU | AMD Ryzen 5 3600 @ 4.00Ghz |
| Motherboard | MSI B450 TOMAHAWK MAX |
| RAM | Patriot Viper Steel 16GB DDR4 3000Mhz |
| Storage | Crucial P1 1TB 3D NAND NVMe PCIe M.2 SSD |
| PSU | Seasonic S12III 80 Plus 650W Bronze |
This rig is similar to what a mid-ranged build would look like. Note that no manual overclocking was done. All of the numbers below are from an out of the box overclocked card.
ROG Strix RTX 3050 OC Review – Gaming Benchmarks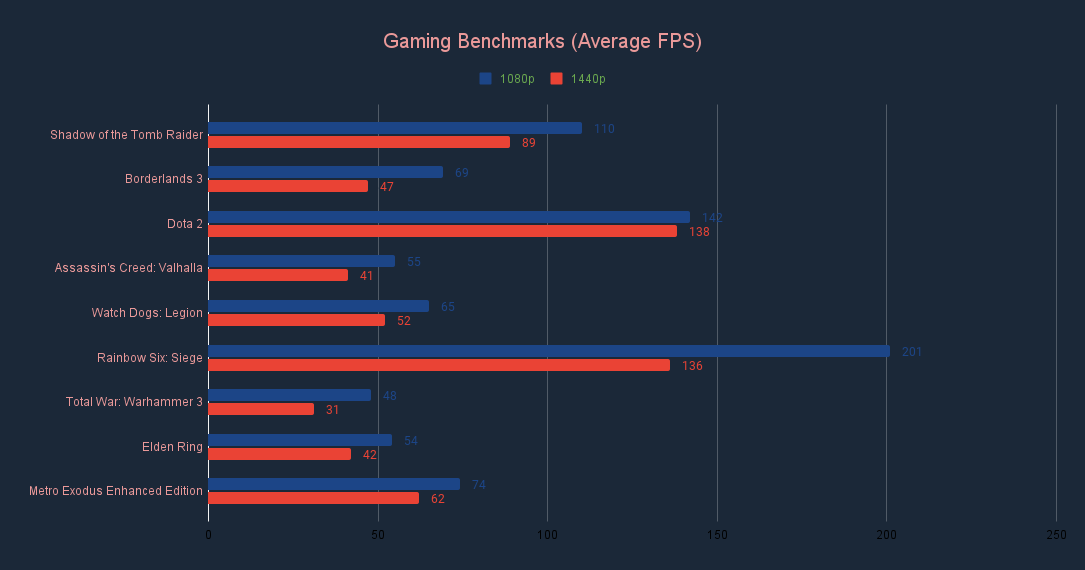 Titles
Settings
1080p
1440p
DLSS
Shadow of the Tomb Raider
Highest
110
89

DLSS: Performance
Ray-Tracing: Medium

Borderlands 3
High
69
47
–
Dota 2
Best Looking
142
138
–
Assassin's Creed: Valhalla
Ultra High
55
41
–
Watch Dogs: Legion
Ultra
65
52

DLSS: Performance
Ray-Tracing: Medium

Rainbow Six: Siege
Ultra
201
136
–
Total War: Warhammer 3
High
48
31
–
Elden Ring
High
54
42
–
Metro Exodus Enhanced Edition
High
74
62
DLSS: Performance
Ray-Tracing: Normal
For starters, when it comes to 1080p, the ASUS ROG Strix RTX 3050 can run most games on High settings at an acceptable framerate. With 1440p, we also see decent frames but there is definitely a significant drop to be seen here. For games that are compatible, we tested them with DLSS set to "Performance" and with the lowest ray-tracing setting possible.
Also note that more mainstream games such as CS:GO, Fornite, and Valorant will definitely run without any problems with this card.
Can It Run Elden Ring?
Yes. Elden Ring is perhaps an odd choice for a benchmark as it is locked at 60 FPS. However, it is by the time of this review one of the most popular games so we thought of having it part of the test. The game is also heavily affected by noticeable hiccups during area transitions and is also pretty jittery especially when fire or magic effects are rendered on-screen. Our test involved going through a path during day time. The path is littered with several enemies some of which use magic. It also includes a giant troll and a large open space to fully simulate a usual open-world exploration.
DLSS Performance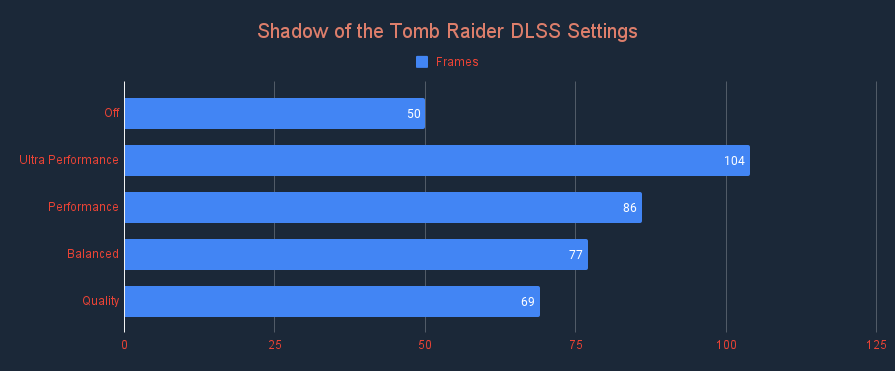 | | | | | | |
| --- | --- | --- | --- | --- | --- |
| 1440p Resolution | Off | Ultra Performance | Performance | Balanced | Quality |
| Shadow of the Tomb Raider | 50 | 104 | 86 | 77 | 69 |
Shadow of the Tomb Raider was used to test the DLSS performance of the ASUS ROG Strix 3050 OC. As seen with the images above, with DLSS, Shadow of the Tomb Raider was able to perform significantly better on 1440p. Note that DLSS performance varies per game and it can be used to get better frames when playing on higher resolutions.
Ray Tracing Performance
| | | | |
| --- | --- | --- | --- |
| Average Frames Per Setting | Normal | High | Ultra |
| Metro Exodus Enhanced Edition | 52.5 | 47.96 | 41.63 |
To test ray tracing performance, we used Metro Exodus Enhanced Edition. A demanding game, Metro Exodus has the settings that can make use of the latest Nvidia technologies. All of the tests were done on 1080p at High settings. Obviously, Normal settings netted the highest frames with 52.5. High settings produced 47.96 while Ultra has 41.63.
ROG Strix RTX 3050 OC Review – Synthetic Benchmarks
3DMark Timespy
3DMark Time Spy is a DirectX 12 benchmark test for Windows 10 gaming PCs. Time Spy is one of the first DirectX 12 apps to be built the right way from the ground up to fully realize the performance gains that the new API offers.
3DMark Firestrike Extreme
3DMark Fire Strike Extreme is designed for multi-GPU systems and future hardware generations. In addition to raising the rendering resolution, additional visual quality improvements increase the rendering load to ensure accurate performance measurements for truly extreme hardware setups.
3DMark Port Royal
3DMark Port Royal is the world's first real-time ray tracing benchmark for gamers. It shows how well your PC handles ray tracing effects in real-time.
Unigine Superposition
Extreme performance and stability test for PC hardware: video card, power supply, cooling system.
Temperature & Power
| | | |
| --- | --- | --- |
| | Min | Max |
| Temperature (°C) | 25°C | 65°C |
| Power (W) | 25.1W | 151.8W |
RTX 3050 vs RTX 3060
Game Benchmarks
To compare the performance of the two cards, we tested the games used for the benchmarks with the RTX 3060 and tried them again with the RTX 3050. The settings used during the RTX 3060 review were again applied.
1080p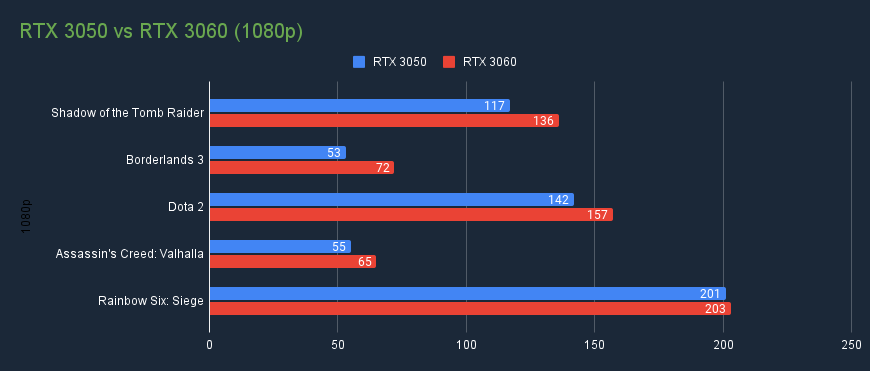 Based on the tests, the ASUS ROG Strix RTX 3060 is on average 13.26% faster than its RTX 3050 sibling on 1080p.
1440p
Based on the tests, the ASUS ROG Strix RTX 3060 is on average 15.89% faster than its RTX 3050 sibling on 1440p.
Synthetic Benchmarks
| | | |
| --- | --- | --- |
| Benchmark | RTX 3050 | RTX 3060 |
| 3DMark Time Spy | 6464 | 8497 |
| 3DMark Firestrike Extreme | 7272 | 9532 |
| Unigine Superposition | 3569 | 5235 |
With the same hardware except the graphics card, the results are pretty obvious here. The Nvidia RTX 3060 stomps the RTX 3050 by a large margin. But then again, these are synthetic results and are just baselines to be used.
Pricing & Availability
The prices for both of the cards vary per brand. Based on our searches during the time of this review. Prices for the Nvidia RTX 3050 range from PhP 17,000 to PhP 26,000. For the Nvidia RTX 3060, prices range from PhP 25,000 to PhP 38,000. The higher the price of the card, the more features you get like better cooling and out of the box overclocking. Usually.
ROG Strix RTX 3050 OC Review – Verdict & Conclusion
The Good – Overkill Cooling
It's to no one's surprise that the ROG Strix coolers are one of the better ones out there. It shows (even in the price tag) and you get a stable and cool card out of it. Having it on the Nvidia RTX 3050 sounds overkill because it is. You get a cooler that keeps the card at a warm 65°C and not something that can turn your PC into a mini-sauna box. This in turn allows it to pump out more numbers than the usual. Performance-wise, it provides enough juice to power through most 1080p games and is slightly capable in 1440p. Not only that but it enables you to get a glimpse of ray-tracing without paying too much for a more powerful card.
The Bad – It Might Not Fit
Same sentiments with our review of the ASUS ROG Strix 3060 OC, the Strix 3050 OC is a large card. You definitely won't be able to fit this in a small case. It is however not too heavy. The dimensions of the card should be taken into consideration before purchasing it as it may require you to purchase a new case for it to fit.
Great Card For Modern Games
The ASUS ROG Strix 3050 OC, while not as powerful as its higher, more expensive counterparts, still provides a decent frame rate out of the box. While it does have its limitations, the cooling allows it to be pushed further than it was intended for.
ASUS ROG Strix RTX 3050 OC – Pricing & Availability
The ROG Strix RTX 3050 OC has an SRP of PhP 23,130 and can be bought on local shops like PCHub. It is comparatively a bit expensive than other Nvidia RTX 3050 cards out there. Suffice to say, you pay for the extra overclock and the better cooling. Aside from PCHub, you can also get one using online stores or from your favorite PC hardware shops here in the Philippines. If you have a couple of change to spare, it might be better to add a few more to get yourself a better card in the Nvidia RTX 3060 or the Radeon RX 6600.
For more information about this card, check out the official page.
If you fancy other graphics cards, just click on our reviews: