After slogging through thin gaming laptops that go hot, we finally get to try one on the thicker, cooler side. This time, we get to review the ROG Strix SCAR 17 2022, a powerful gaming laptop from ASUS ROG that comes with the current best hardware that you can fit into a mobile gaming station. But is it worth it? How much is it? Let's find out in this review.
ROG Strix SCAR 17 2022 Review – Specifications
Operating System
Windows 11 Pro
Processor

12th Gen Intel® Core™ i9-12950HX Processor 2.3 GHz (30M Cache, up to 5.0 GHz, 16 cores: 8 P-cores and 8 E-cores)

Graphics

NVIDIA® GeForce RTX™ 3070 Ti Laptop GPU

ROG Boost: 1460MHz* at 150W (1410MHz Boost Clock+50MHz OC, 125W+25W Dynamic Boost)

Display

17.3-inch, WQHD (2560 x 1440) 16:9, Anti-glare display,

DCI-P3:

100%,

Refresh Rate:

240Hz,

Response Time:

3ms, IPS-level

Adaptive-Sync, MUX Switch + Optimus,

Support Dolby Vision HDR :

Yes

Memory

32GB DDR5-4800 SO-DIMM x 2,

Max Capacity:

64GB, Support dual channel memory

Storage

2TB PCIe® 4.0 NVMe™ M.2 Performance SSD

I/O Ports

1x 3.5mm Combo Audio Jack, 1x HDMI 2.1 FRL, 2x USB 3.2 Gen 1 Type-A, 1x USB 3.2 Gen 2 Type-C support DisplayPort™ / power delivery / G-SYNC, 1x RJ45 LAN port, 1x Thunderbolt™ 4 support DisplayPort™

Keyboard and Touchpad

Backlit Chiclet Keyboard Per-Key RGB,Touchpad

Audio

AI noise-canceling technology

Built-in array microphone

4-speaker system with Smart Amplifier Technology

Network and Communication

Wi-Fi 6E(802.11ax) (Triple band) 2*2 + Bluetooth® 5.2 (*Bluetooth® version may change with OS version different.) -RangeBoost

Battery

90WHrs, 4S1P, 4-cell Li-ion

Power Supply

ø6.0, 280W AC Adapter, Output: 20V DC, 14A, 280W, Input: 100~240C AC 50/60Hz universal

Weight
Dimensions (W x D x H)

39.5 x 28.2 x 2.34 ~ 2.83 cm (15.55″ x 11.10″ x 0.92″ ~ 1.11″)

Security

BIOS Administrator Password and User Password Protection

Trusted Platform Module (Firmware TPM)

Included in the Box

Marketing Giveaway (Keystone + 2 Customizable Armor Caps)

Xbox Game Pass

Xbox Game Pass Ultimate 1 month (*Terms and exclusions apply. Offer only available in eligible markets for Xbox Game Pass Ultimate. Eligible markets are determined at activation. Game catalog varies by region, device, and time.)
ROG Strix SCAR 17 2022 Review – At A Glance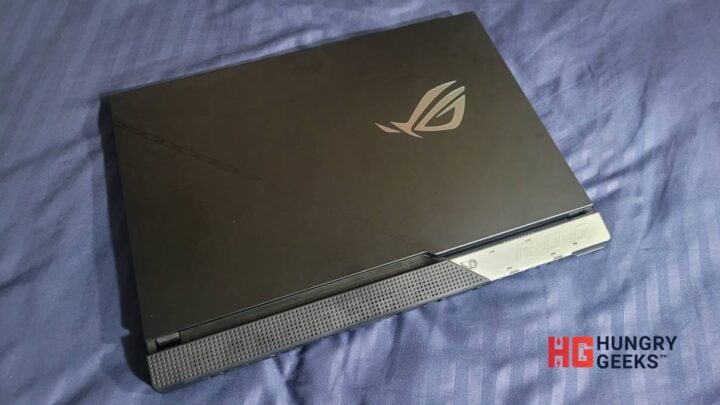 Ports
Unlike most laptops wherein you can find ports on all sides, this one only has ports on two. The left side is home to the two USB 3.1 Type-A ports and a 3.5mm port for audio.
The backside is home to two USB 3.2 Type-C ports, a single HDMI 2.1 FRL port, an RJ45 Lan port, and the power port.
As mentioned, there's nothing on the right side of the ROG Strix SCAR 17 2022. The only thing worth noting here is the slot for the ROG Keystone and the exhaust.
Where's My RGB?
The only things that light up on the ROG Strix SCAR 17 2022 are the keyboard and the front side. You can however, make use of an ROG gaming mouse to add more bling. You can program all of the RGB on this thing to sync with each other via the ASUS Armoury Crate app.
What The Heck Are Armor Caps?
This slideshow requires JavaScript.
If you're wondering what the heck are the "Armor Caps" that are included in the package, here they are. These are the things that you can interchange to add a bit of flair to your ROG Strix SCAR 17 2022. Unlike before though, these things do not come in bright colors. However, it seems that you can customize them yourself with the color that you want if you can spend the time to do so.
ROG Strix SCAR 17 2022 Review – Benchmarks
Gaming Performance
Resolution

2560×1440

Frame Rates
Games
Preset
Average
1%
0.1%
Notes (Score, etc.)
Assassin's Creed Valhalla
Ultra High
67
45
33
100% Render Scaling
Dota 2
Best Looking
141
90
78
–
Metro Exodus: Enhanced Edition
Extreme
56
31
23
DLSS Performance
Apex Legends
Highest
136
80
61
–
Rainbow Six: Siege
Ultra
206
162
147
100% Render Scaling
Shadow of the Tomb Raider
Highest
90
70
40
DLSS OFF
PUBG
Ultra
137
72
25
100% Render Scaling
Watch Dogs Legion
Ultra
62
48
37
DX12, DLSS OFF
Borderlands 3
Badass
61
31
11
DX12
Total War: Warhammer 3
Ultra
58
45
35
Ultra
Modern Warfare 2
Extreme
80
46
41
–
1440p Done Right
The above performance shows that the ROG Strix Scar 17 2022 is capable of decent frames with the help of its Intel i9-12950HX processor and Nvidia GeForce RTX 3070Ti Laptop GPU. Both incredibly help in giving you decent performance that's comparable to what you would get with a desktop build with an Nvidia GeForce RTX 3060 and a mid-range processor. Note that the numbers above were tested in 1440p, which means that you are certain to get higher frames if you play on 1080p. Nvidia DLSS is also an option you can take advantage of to get more FPS.
Synthetic Benchmarks
These benchmarks are meant to measure the device's performance relative to other people's machine. We plugged in a mix of CPU & GPU-intensive tests and other ones that measure the performance of both at the same time.
The numbers below will be quantified into an easy to read chart once we have compiled results from previous reviews. Please do check them out after some time.
3DMark Fire Strike Extreme
3DMark Fire Strike Extreme is designed for multi-GPU systems and future hardware generations. In addition to raising the rendering resolution, additional visual quality improvements increase the rendering load to ensure accurate performance measurements for truly extreme hardware setups.
3DMark Fire Strike Ultra
3DMark Fire Strike Extreme but more demanding. Incredibly taxing to the system as the benchmark tests how your PC can render in 4K (3840 x 2160).
3DMark Time Spy
3DMark Time Spy is a DirectX 12 benchmark test for Windows 10 gaming PCs. Time Spy is one of the first DirectX 12 apps to be built the right way from the ground up to fully realize the performance gains that the new API offers.
3DMark Port Royal
3DMark Port Royal is the world's first real-time ray tracing benchmark for gamers. It shows you how well your PC handles ray tracing effects in real-time.
Cinebench (Release 20)
Benchmark Score: 5792

Cinebench leverages the same powerful 3D engine found in the award-winning animation software Cinema 4D Release 20 to accurately evaluate CPU rendering performance capabilities across various systems and platforms.
Novabench
Novabench is a free benchmark tool that allows you to see your computer's overall performance. Its tests CPU, GPU, RAM, and Storage speeds, and gives you an aggregate score that you can use for comparison with other similar setups.
Unigine Superposition
Extreme performance and stability test for PC hardware: video card, power supply, cooling system.
PassMark
PassMark measures CPU, 2D & 3D GPU, Memory, and Disk speeds. Similar to Novabench, it gives you an aggregate score, giving you an idea on how your PC performs and how it ranks when compared to other computers around the world.
ROG Strix SCAR 17 2022 – User Experience
Cold & Easy
| | | | | | |
| --- | --- | --- | --- | --- | --- |
| ROG Strix SCAR 17 2022 Temperatures | Touchpad (Right) | Touchpad (Left) | Top | Middle | Right Exhaust |
| Idle (Turbo) | 35.9C | 35.9C | 37.5C | 36.7C | 38.4C |
| Benchmark (Turbo) | 32.3C | 32.6C | 49.5C | 43.2C | 55.8C |
To test the working temperatures of the laptop, we used an infrared thermometer and pointed it at parts where you'll likely interface. We also took temps from the exhaust as it is located at where one would usually use a right-handed mouse.
In order to simulate the usage of most of the ROG Strix SCAR 17 2022's resources, we ran Furmark on loop. With Furmark running, temperatures were taken to compare it with its idle temps. Based on the numbers, the touchpad region, the one near the user, remains cool and it's worth noting that it's also cooler than the laptop's idle state. However, the closer you go to the top-part of the keyboard, the hotter it gets. The top part of the keys, the ones where the numbers and the function keys are located, can get pretty warm to touch.
240Hz Won't Hurt
The screen's legit. Personally, 240Hz is an overkill but more won't hurt in this case. The ROG Strix SCAR 17 2022's Nvidia RTX 3070Ti is more than enough to produce frames that can take advantage of this. However, for you to fully take advantage of the blazing fast display, you must turn down your game's settings and/or the display resolution.
Tests were taken using UFO Test.
Touchpad Of Doom Is Back?
The touchpad that doubles as a numpad is back again. Unlike before, the location of the numlock activation key is a bit farther from before, reducing the chances of making accidental button presses. In previous iterations, this has been a major headache as it's easy to activate the numpad while casually using the touchpad. While reviewing this laptop, I can say that I've never encountered that annoying numpad activation, which is a huge upgrade especially if you plan on occasionally using the ROG Strix SCAR 17 2022 without a mouse.
ROG Strix SCAR 17 2022's ROG Keystone
The glorified keychain, ROG Keystone, is back. To those unfamiliar with this thing, it's a chip that you slot into the recess located on the right side of the keys.
You can program the ROG Keystone to your liking and inserting it allows you to choose from a variety of features. Options include opening a program immediately, shifting to a different performance setting, or activation of a "Shadow Drive", a hidden drive that only appears if you insert the Keystone. You can also program it to do some things when you remove the ROG Keystone, say muting all sounds currently running on your PC. Can't think of any good application for that…
Heavy Baby
After taking the ROG Strix SCAR 17 2022 on some of my excursions, there's one thing that's noticeable while lugging it around: it's heavy. Not that the laptop alone is heavy but add the weight of its power brick and mouse, and you're carrying something around 5kg (11 lbs). That's a far cry from the ROG G14 and the ROG Flow X16. Carrying the ROG SCAR 17 2022 around plus your other stuff on long walks is not a good experience.
ROG Strix SCAR 17 2022 – Verdict & Conclusion

Unbridled Power
Coming from the simpler TUF A15 2022, the ROG Strix SCAR 17 2022 is a different beast. It's blingy, has more gimmicks inside it, and is comparably the better gaming laptop in terms of what comes with it. Having reviewed the previous ones, it's still a good thing that ASUS ROG decided to stick with what works in this product line. It packs good and decent hardware coupled with a reasonable display in a cool but cumbersome form.
Back Breaker
Perhaps the greatest flaw with this gaming laptops is its weight. Weighing 3kg in itself is not that heavy but factor in the large power adapter and you're in for a treat if you plan on carrying this thing all day long. However, the added weight is not too much of a problem as it does make the whole system cooler and far more manageable compared to other thinner ROG gaming laptops. This also means that you get more performance and frames when playing games.
Does Not Carry The ROG Nebula Display
Another thing that can be seen as a weak point for this device is its display. Not that it's bad but after seeing other ROG gaming laptops with ROG Nebula Display, it's quite unfortunate that it's not introduced in the ROG Strix SCAR 17 2022. It already has a powerful enough graphics card to power it so why not maximize it by partnering it with a good display? Again, this is not a deal breaker but it would've been great if ASUS ROG got the ROG Nebula Display for this one.
Great For Gaming & Lifting Weights
With its very capable hardware and great heat management, it's obvious that the ROG Strix SCAR 17 2022 is a gaming laptop to watch out for. The display, although not the best that you can expect from ROG, is still incredibly formidable. In terms of aesthetics, the ROG SCAR 17 2022 shows that it's a gaming laptop without going overboard with its lights and colors.
If you are planning on getting a gaming laptop before the year ends, the ROG Strix Scar 17 2022 should be included in the list of models that you should take a look at. It's an all in one deal that includes every best thing that you can fit into a gaming laptop in one sleek package. However, this gaming laptop commands a steep price that may be too much even for the majority of those willing to spend 6 digits on a gaming laptop. The price tag is very likely due to its top-of-the-line Intel mobile processor and the Nvidia graphics card that's powering it.
ROG Strix SCAR 17 2022 Price & Availability

The ROG Strix SCAR 17 2022 is available here in the Philippines and can be bought from online and retail stores. This model has two versions and with the main difference between the two being the graphics card and the processor:
Intel i9-12900H / GeForce RTX 3070 Ti 8GB GDDR6 –

₱199,995

Intel i7-12700H / GeForce RTX 3060 6GB GDDR6 – ₱149,995
AMD R9-5900HX / GeForce RTX 3060 6GB GDDR6 – ₱129,995
Aside from the laptop and the essentials, buying an ROG Strix SCAR 17 2022 here in the Philippines also nets you with an ROG Backpack, an ROG Chakram Core gaming headset, and a Type-C PD Adapter.
The ROG Strix Scar 17 2022 is currently part of the ROG Share Deals promo and is bundled with a TUF VG27AQL1A gaming monitor worth Php 21,260.
Other Laptop Reviews
For other gaming laptops, check out our recent review of the following:
You can check out the product page of the ROG Strix Scar 17 2022 here.