AMD finally has its answer to the mainstream GPU market: the Radeon RX 6600 XT. It sits as the poster child for 1080p gaming in the RDNA2 series packing a Navi 23 GPU and 8GB GDDR6 memory but only has a 128-bit bus. There is no reference card to be reviewed but we will be taking a look at the ASUS Dual Radeon RX 6600 XT, which is one of the most budget-friendly card in the ASUS family.
ASUS Dual Radeon RX 6600 XT OC
| | |
| --- | --- |
| GPU | Navi 23 |
| Architecture | RDNA2 |
| Manufacturing Process | 7nm TSMC |
| Clock Speeds | Up to 2607MHz (OC Mode), Up to 2593MHz (Game Mode) |
| Shader Processors | 2048 |
| Texture Units | 128 |
| ROPs | 64 |
| Raytracing Cores | 32 |
| Memory | 8GB GDDR6 |
| Memory Bus | 128-bit |
| Infinity Cache | 32MB |
| TDP | 160W |
| Power Connectors | 1x 8-pin PCIe |
| Display Connections | 3x DisplayPort 1.4a, 1x HDMI 2.1 |
| Dimensions | 243 x 134 x 49mm |
| Size | 2.5 Slots |
The RDNA2 Architecture
AMD's RDNA2 architecture, also known as Big Navi, is essentially the next evolution of RDNA introduced with the Radeon 5000 series. It still uses a 7nm lithography while becoming more efficient than its predecessor. Their new generation GPUs are also boasting GPU clock speeds well beyond the 2000MHz mark, which should deliver faster performance across the board.
Overall, AMD is promising up to 54% gain in performance-per-watt thanks to clock enhancement, frequency increase, and varying optimizations.
The Navi 23 GPU on the RX 6600 XT was first introduced on AMD's laptop equivalent back in June. It is designed for the mainstream market to perform at 1920 x 1080. The RX 6600 XT specifically has 2048 stream processors, 128 texture mapping units, and 64 ROPs, and 32 ray tracing acceleration cores, 8GB of GDDR6, and a cut-down 128-bit memory bus while TDP tops out at around 160W.
Infinity Cache
One of the solutions that AMD implemented on RDNA2 is the usage of the Infinity Cache. Not to be confused with the Infinity Fabric found on their CPUs, Infinity Cache uses a 128MB cache on the die itself in order to bridge the size between of the VRAM and the traditional L2 cache found on GPUs. This allows for better bandwidth, lower latency, and faster memory access.
Smart Access Memory
Transfers between the CPU and GPU are normally limited to a 256GB chunk. AMD's Smart Access Memory (SAM) combines the memory of the CPU and GPU to increase that limit to reduce buffering and latency. AMD claims that SAM provides up to 10% of additional framerate to games but this increase is much more noticeable to higher resolutions.
Ray Tracing Support and Fidelity FX Super Resolution
Big Navi will officially support ray tracing in games albeit in a lesser extent compared to the competition's latest offerings. AMD is implementing dedicated RT cores on RDNA2-based GPUs in order to improve performance of ray tracing effects
Fidelity FX Super Resolution, otherwise known as FSR, is AMD's answer to NVIDIA's DLSS technology. It lowers the render resolution of games to improve performance and then upscales the image to the target resolution using algorithms to put the quality almost on-par to the native resolution.
The FSR upscaling algorithm analyzes the source image at the anti-aliased input resolution and then recreates it at the target resolution. A sharpening pass improves the image quality by enhancing texture detail.
The result is an upscaled image with higher quality details compared to basic point or bilinear upscaling. AMD says that image quality is near-indistinguishable at Ultra Quality mode while performance in games is increased by up to 2.4x at 4K at Performance Mode. At this time, FSR is supported by around 13 including Godfall, Resident Evil Village, and Dota 2 and more games are on the way.
ASUS Dual Radeon RX 6600 XT OC Up Close
The Dual series is perhaps one of the most basic and budget-friendly cards from ASUS and that shows on the ASUS Dual Radeon RX 6600 XT's design. The design is kept simple with an overtly black paintjob with silver highlights and extras are kept to a minimum and it lacks any kind of RGB lighting. It is fairly short at 243 x 134 x 49mm but it still has a 2.5-slot form factor.
Two Axial-tech Fans and a heatsink with three heat pipes cool down the card. It also sports 0dB technology, which turn off the fans when the GPU under 52°c allowing for silent operation on idle or light workloads.
The backside of the PCB has a black aluminum plate with a few reflective lines for highlight. The ASUS logo is also embossed on the backplate. The plate gives additional rigidity to the card but it seems that it does not have any thermal dissipation as the memory chips are located at the front of the PCB.
ASUS is fitting the card with a single 8-pin PCIe power connector since the RX 6600 XT only has a TDP of 160W. Most PSUs from reputable brands should be able to power this card with these requirements but ASUS recommends at least a 500W PSU.
At the rear of the card is the usual assortment of display connectivity on a graphics card. Users will have access to a total of three DisplayPort 1.4 ports and a single HDMI 2.1.
System and Benchmarks
The ASUS Dual Radeon RX 6600 XT will be tested by running synthetic benchmarks as well as games running at DX11, DX12, and Vulkan at resolutions of 1920 x 1080, 2560 x 1440, and 3840 x 2160. Ray Tracing performance will be tested in games that support it but vendor-specific features like DLSS, FSR, Hairworks, and the like will be turned off.
Components for our test bench in this review are the following:
CPU: AMD Ryzen 7 5800X
GPU: ASUS Dual Radeon RX 6600 XT OC
Motherboard: ASUS ROG Strix X570-E Gaming
PSU: EVGA 650 GQ Gold 650W
Cooler: MSI MAG CoreLiquid 360R
OS: Windows 10 Build 20H2
Driver Version: AMD Adrenalin 21.8.1
Synthetic Benchmarks
3DMark Fire Strike
3DMark Time Spy
Port Royal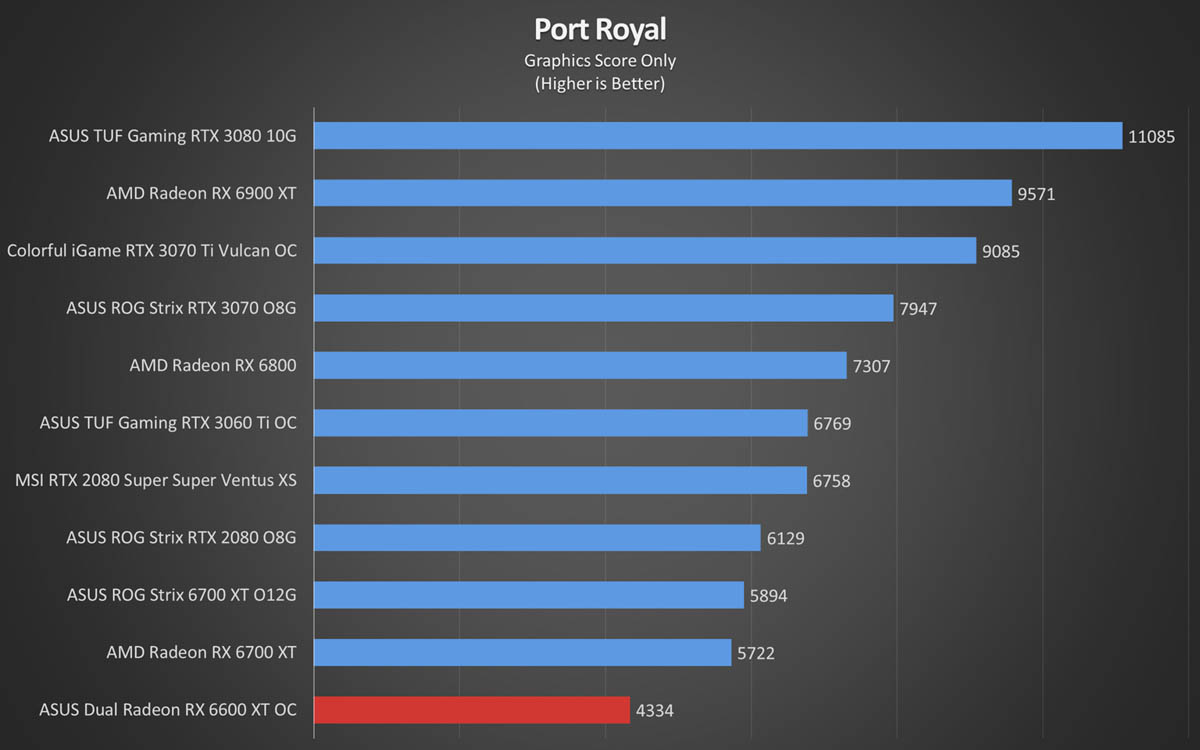 The card performs well on synthetics based on the numbers it put out in 3DMark Fire Strike and Time Spy. It closely follows the last generation's RTX 2080 in performance across all resolutions. Meanwhile, it scores around 26% more on average compared to the RX 5600 XT.
Its closest current generation rival in our charts, the RTX 3060 Ti, pulls ahead at an average of 8% but keep in mind that its NVIDIA counterpart is USD 20 more expensive at least in official SRP.
Ray Tracing is not AMD's cup of tea just yet in their current crop of cards. The ASUS Dual Radeon RX 6600 XT OC places last in the charts but that's to be expected since it is a mainstream-level card and less Ray Tracing cards to begin with.
Gaming Benchmarks
1920 x 1080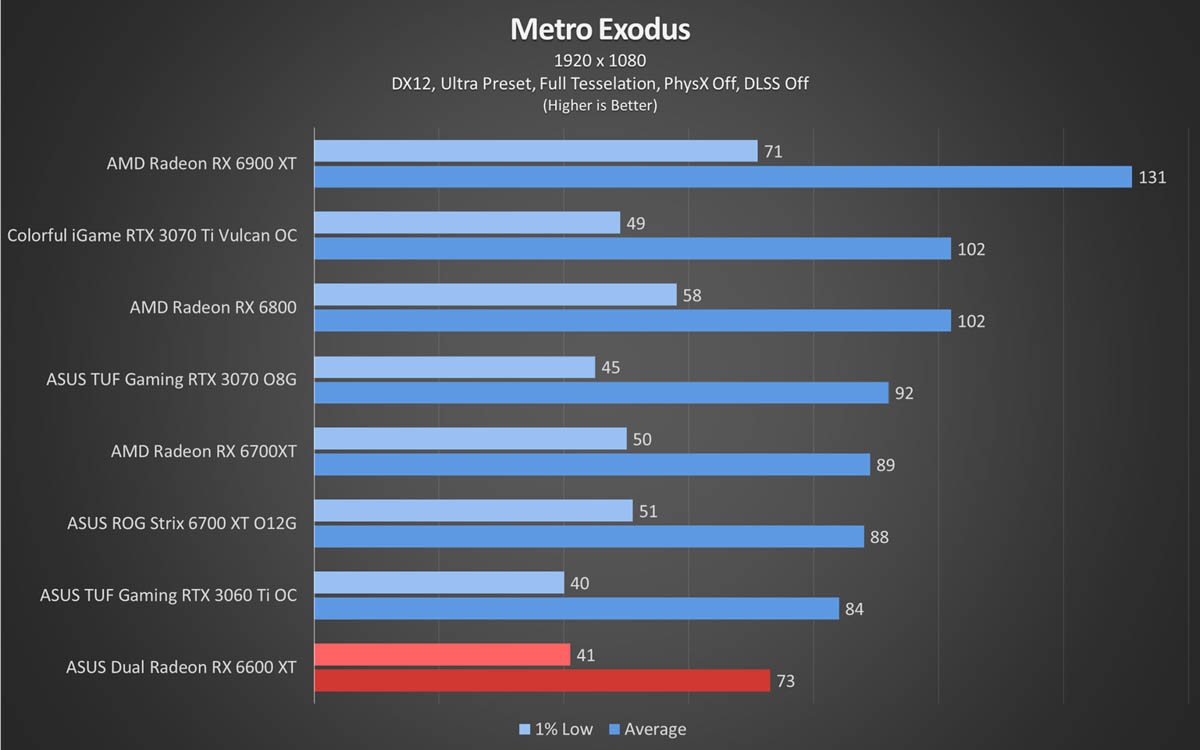 The AMD Radeon RX 6600 XT is designed as a 1080p card in it performs well at its intended resolution. Most Triple A games will be comfortable running at more than 60fps on average with all the settings maxed out.
2560 x 1440
1440p performance does dip below the 60fps standard but framerates can be boosted by lowering a few of the more demanding settings such as anti-aliasing. Overall, users can still get a usable experience with the RX 6600 XT at 2560 x 1440.
3840 x 2160
Framerates significantly tank down at 3840 x 2160. 60fps is achievable at older DX11 titles or by lowering down settings on modern titles. This does show that its 8GB cap on memory and the lowered 128-bit bus is ill-suited in high resolution gaming.
Ray Tracing Performance
1920 x 1080
2560 x 1440
3840 x 2160
Ray Tracing on the RX 6600 XT is, well, as expected. Packing only 32 RT cores significantly takes out a chunk of performance from the card. You can get away with Ray Tracing at 1080p but some settings would need to be lowered or turned off altogether.
Turning on Ray Tracing at 1440p will yield a "playable" but sub-60fps framerate on older games that support it. Generally, however, you will get a slideshow experience at 1440p and 2160p with Ray Tracing and all other settings turned to the max.
Power Consumption and Temperature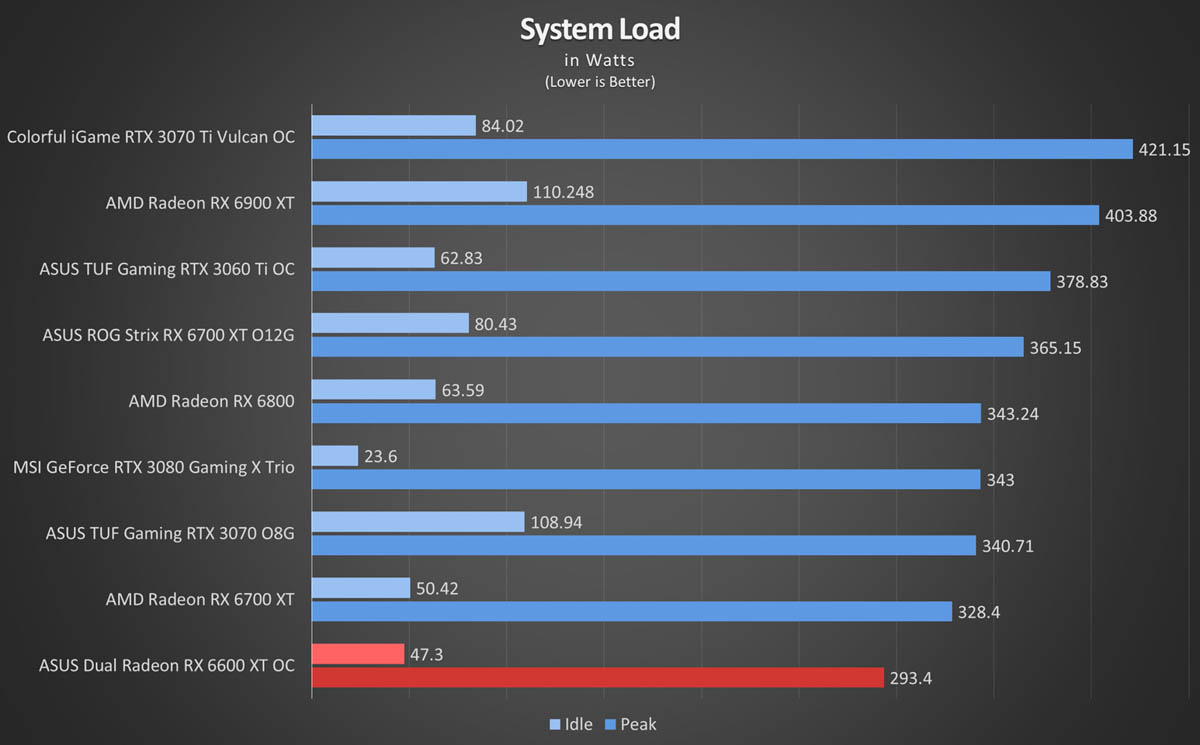 AMD rates the Radeon RX 6600 XT with a TDP of 160W and ASUS' Dual variant plays around with that figure. At max load, the card consumes around 12W while idle and 158W while under maximum load while playing games. Total load of the whole test bench is just below 300W, which means that you can comfortable run a similar rig with a reputable 400W – 500W PSU.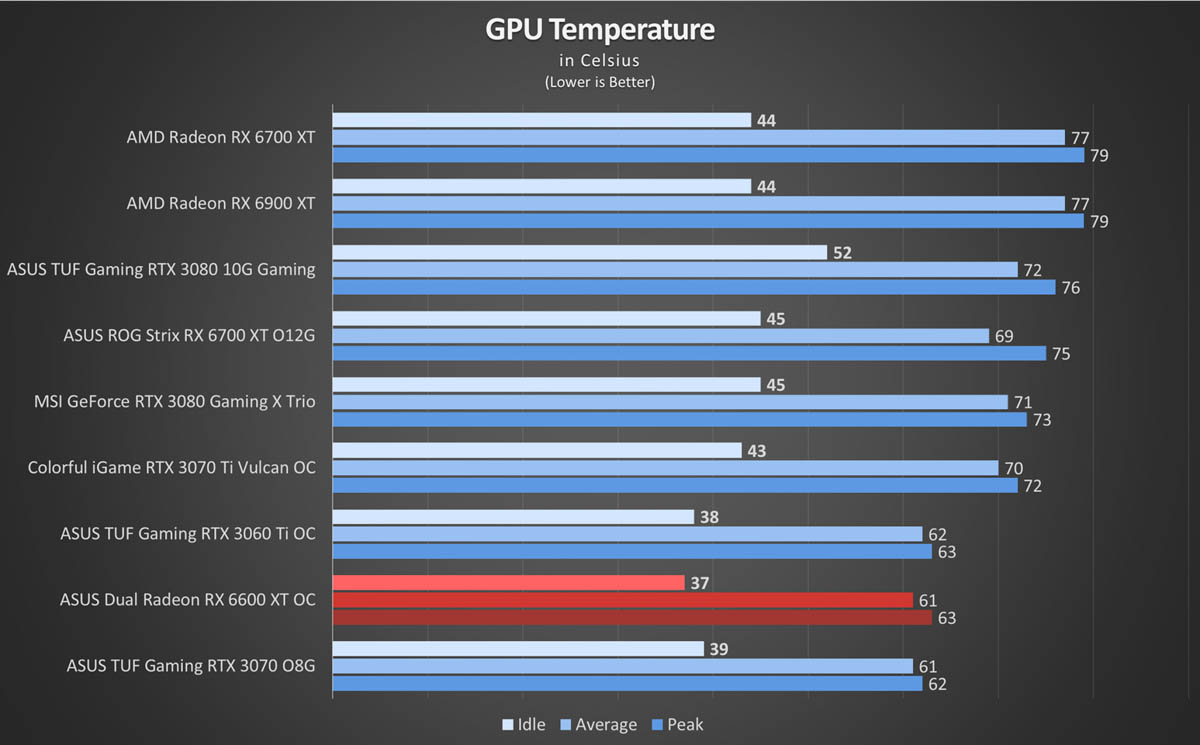 The relatively low TDP also means that temperature of the card is easier to cool. Heavy workloads using the card at 24°c ambient peaks at only 63°c and 61°c on average. Idle temps rest at around 37°c without the fans spinning for a completely silent operation.
Clock speeds of the ASUS Dual Radeon RX 6600 XT is rated up to 2593MHz (Boost) / 2382MHz (Game) at Gaming Mode and up to 2607MHz (Boost) / 2402MHz (Game) at Boost Mode. The card averages out at 2408MHz in a 2-minute run and peaks at 2508MHz in Game Mode.
Conclusion
Priced at PhP 26,999, the ASUS Dual Radeon RX 6600 XT offers a no-nonsense experience by only offering sheer performance and removing some of the unnecessary features like RGB lighting to bring down its price.
Performance at 1080p is good across varying titles. Most gamers will be able to comfortable reach more than 60fps with all the settings turned on. Ray Tracing can be easily done at this resolution but there will be some tuning to do in order to get a steady 60fps.
1440p and 2160p resolutions are where the RX 6600 XT start to show its weakness. It can run at 1440p but make sure that demanding settings are turned down while 2160p will most likely require putting settings on low. Ray Tracing will also need to be ignored to avoid slideshow-like framerates.
Overall, the RX 6600 XT sits awkwardly between the RTX 3060 Ti and the RTX 3060. FSR promises to deliver better performance in games but its only implemented in only a few games at this time. NVIDIA pulls ahead in DLSS support as it's more commonplace in games.
Regardless of its position in the market, the ASUS Dual Radeon RX 6600 XT provides a good gaming experience at the resolution that it is intended at a lower price compared to other premium cards in the market.
We're happy to say that we are giving it our seal of approval thanks to its simplicity and decent performance. Hopefully its pricing will come down nearer to the official SRP of USD 379 in the future to give enthusiasts a decent entry point.
ASUS Dual Radeon RX 6600 XT OC Price and Availability
The ASUS Dual Radeon RX 6600 XT is priced at PhP 26,999 and is now available in ASUS authorized retail stores nationwide and partner online stores. You can also get it via the official ASUS Shopee and Lazada stores.
If you fancy other graphics cards, just click on our reviews: