The large variety of gaming headphones nowadays may drive one crazy. Choosing one is not an easy feat and having to consider multiple brands may cause you to not think at all and just grab one from the shelf. But what if I tell you that wireless gaming headsets are now "good enough" nowadays. Sometimes even better than what you would expect. One such gaming headset is the ASUS ROG Delta S Wireless. I've had the opportunity to try and review one for weeks. So is this a good headset? Should you consider it? Read this review to know  more!
ROG Delta S Wireless Review – Specifications
Usage Scenario
Gaming
Interface
Wireless
Connector
USB-A, USB-C
Support Platform
PC
MAC
PlayStation® 4
PlayStation® 5
Nintendo Switch
Driver Material
Neodymium magnet
Driver Size
50mm
Headphones Impedance
32 Ohm
Headphones Frequency Response
20 ~ 20000 Hz
Microphone Pick-up Pattern
Omnidirectional
Microphone Sensitivity
-37 dB
Microphone Frequency Response
100 ~ 10000 Hz
AI Noise Cancelling Microphone
Yes
Active Noise Cancellation
No
Channel
Virtual 7.1
Aura
No
Foldability
Yes
Weight
310 g
Carry bag / box
No
Extra ear-cushion
Yes
Color
Black
Cable
USB-C charging cable: 1m
Accessories

User guide ROG Hybrid, ear cushion, USB-C to USB 2.0 adapter
ROG Delta S Wireless Review – At A Glance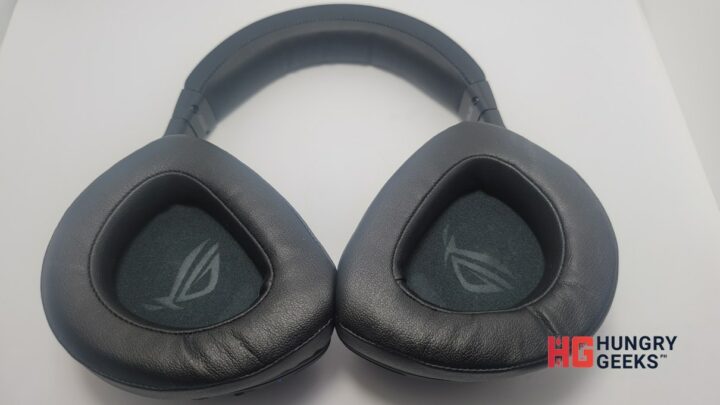 ROG Delta S Wireless Review – User Experience
No Blocking Mic
Similar to the ROG Fusion II 300, the ROG Delta S Wireless sports no mic for input audio. What it does is it uses AI Beamforming and noise cancellation to pick up your voice from the environment. However, the system is not perfect. If you have dogs or something loud just behind your PC monitor, the headset is more than likely to also pick it up. This issue is absent from the ROG Fusion II 300 and I've had a couple of online conversations in which the person I was talking to pointed out the background noise.
Take It Anywhere, Anytime
The ROG Delta S Wireless has two wireless modes: 2.4 Ghz and Bluetooth. For the 2.4 Ghz mode, you have to use the USB-C adapter that is magnetically attached to the right ear. Pop it out and plug it to the device of your liking. For Bluetooth mode, just tether it to a compatible device and you are good to go.
The two modes allow you to use the single wireless headset with two devices. Not at the same time of course, but for example, I use the ROG Delta S Wireless for both my PC and my smartphone. Whenever I go for lunch downstairs, I just switch the headset to Bluetooth mode, pick up my smartphone, and watch videos downstairs while eating. No need to take the thing off making it seamless and incredibly convenient.
Bluetooth Woes
Unfortunately, the device's Bluetooth is very prone to interference. I tried using the ROG Delta S Wireless near two routers and several wireless devices. Despite being near the device itself, less than a meter, a simple turn of my head would introduce crackles and sometimes even disconnect the two devices.
Controls Are All On The Left Side
All of the controls of the ROG Delta S Wireless are located on the left earcup. No controls are present on the right one and the only feature there is the slot for the USB 2.4 Ghz dongle. For controls, you get the usual ones like the mode selector (2.4 Ghz or Bluetooth), Play/Pause, Volume and mute. The single button also acts as the Next/Previous button as two button presses are for Next while three for Previous.
Comfortable & Light
Wearing the ROG Delta S Wireless is a comfort of itself. It's snug, light, and not too tight. The synthetic leather ear pads are also cool and are not too hot when you wear them. I can say that comfort is one of the finer points of this gaming headset. I found myself wearing it while watching Youtube videos on bed and unlike other gaming headsets, I frequently fell asleep while wearing it. It's light, not obstructive, and you can definitely sleep with it on.
Battery Life
With the ROG Delta S Wireless being an untethered device, questions about its battery life is likely to come up. Fortunately, it is more than capable to last more than 24 plus hours of usage. The headset also warns you of its impending demise via when its battery level is at critical state.
You can use the included USB charging cable for it or the one for your phone provided that it is compatible with USB-C. I was also able to charge it by plugging it to the PC and to my phone's charger.
Automatically Turns Off
After a set number of minutes in idle, the ROG Delta S Wireless turns itself off automatically. You can manually change the timer via the ASUS Armoury Crate app.
No RGB
One thing that piques my interest is the absence of RGB lighting. I don't stream and while I don't mind having lights hanging beside my ears, I do find them unnecessary given that I don't see myself wearing the headset. Anyhow, the ROG Delta S Wireless has no RGB. Zero, zilch, nada, null. Also no ASUS Aura Sync. This is likely due to the headset trying to conserve as much power as it can for every single charge.
ROG Delta S Wireless Review – Other Accessories
USB-C To USB-A Adapter
For those with PCs or devices with only USB-A ports, you can use make use of the included USB-C to USB-A Adapter to use the ROG Delta S Wireless. You can also use this with the USB ports on the Nintendo Switch's ports.
No Carry Bag Included
Again, ASUS ROG has decided not to include a carry bag for something designed to be carried around. Don't know why they couldn't be bothered by it. With that said, you have to get yourself one if you plan on bringing this with you often. On the other hand, I found it to be rigid and durable enough to be tossed inside a spacious backpack. Just be wary that you won't be able to fold the headband and you can only turn the cups to make it a bit flatter.
ROG Delta S Wireless Review – Conclusion & Verdict
The Good
The ROG Delta S Wireless is a definite contender to the best wireless headset of 2022. It has very practical features that are mostly absent with ROG's more premium headsets. Although it has neither lighting nor RGB, it backs it up with great battery life and its innate two modes. It's comfortable and has great audio for work and play.
The Bad
For downsides, there are several. One is the price. Wireless headsets are still more expensive than wired ones despite having less features and it can be deemed as the price of convenience. In terms of input, the audio is a bit of a downgrade compared to the likes of the ROG Fusion II 300 and the ASUS ROG Delta S Animate. The ROG Delta S Wireless can pickup background noise and is something I did not expect after experiencing the two aforementioned gaming headsets. This can be due to the lack of built-in DAC. It's not an extreme negative but it would have been great if it had one. Also, a minor nitpick but the ROG Delta S Wireless may look bland to some due to its lack of bling.
Great Wireless Headset
Overall, the ROG Delta S Wireless, while it has a couple of downsides, is a very decent wireless headset. I've used it in meetings and Discord gaming sessions and it has yet to let me down. Audio reproduction is great and the convenience of going wireless is nothing to scoff at. Suffice to say, if you are looking to get a new build, best take a look at going wireless. Having no wires to impede you and getting the freedom to move from place to place is an advantage that, once experienced, may be hard to let go off.
ROG Delta S Wireless Review – Price & Availability In The Philippines
The ROG Delta S Wireless is currently available here in the Philippines and has an SRP of PhP 10,050. You can buy the headset and its stand at your favorite local PC hardware stores or on Lazada or Shopee.
For alternative headsets that we've tried recently, check out our reviews below:
Know more about the ROG Delta S Wireless via the official product page here.